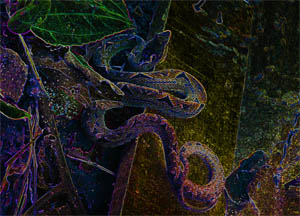 Contrary, to my more introspective brother blessed with supernatural powers, I have tragically been left without such abilities. Enlightened by moksha medicine, David insisted, "I can sprint through the jungle barefoot at night without harm." Prodded for more specifics he would admit the full moon assists such endeavors and to ignore the circumstance of a near amputation.
A few evenings ago I was making my way downstairs in the dark, taking a small risk, without the assistance of a light or shoes. I always take the precaution of wearing jungle boots and using a flashlight in the evenings outside, because of the increased risk of encountering venomous snakes who principally hunt their prey under the cover of night. I have gotten in a habit of skipping this precaution inside because of the relatively small risk of walking only four small steps in the dark to reach the light switch for a glass of water.
Immediately, I recoiled in terror, and looked away for a split second to grab a machete before the real sense of horror was realized!
I should have learned my lesson a month ago after stepping a few inches away from a scorpion the size of a grapefruit in the house. Scorpions don't tend to kill you, rather make you wish you were dead, so hey—why worry? A split second after flicking on the light switch I noticed a 4 foot snake rearing up to strike my leg a few inches away. The unfamiliar markings looked similar to a non-native coral snake species. Despite all my effort, I have yet to identify it. The various snakes down here have been known to cross breed like horses and donkeys so perhaps the search is futile. Immediately, I recoiled in terror, and looked away for a split second to grab a machete before the real sense of horror was realized! In a perfect state of sober wakefulness, and in a well illuminated room, my adversary appeared and disappeared in an impossibly small fraction of time.
So what had just happened? Did I just witness a spirit or religious vision spoken about so frequently? Or should I refrain from assuming the laws of nature were temporarily overruled in my favor and I was delusional? Was I destined with the same curse of schizophrenia inflicted upon 1.5 of my brothers? As beads of sweat started pouring down my face I resolved to confront these questions the best I could with a thorough hunt for this apparition. Safety aside, I began overturning every bucket and item inside and outside the house hoping that the snake was nimbler than I could have anticipated.
To my great relief I found him outside the door behind a planting pot in which he was able to reach by quickly slipping under the door with greater dexterity than the movement of my eyes. After disposing of my new guest I resolved to take a little more care. I still ask myself these questions however, "What if I didn't find the snake?" Would I suppose that I was mad, or assume the supernatural?
-m