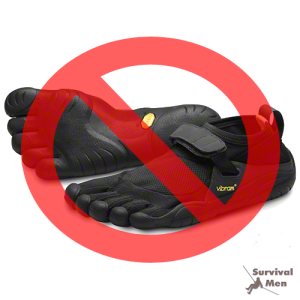 Last night (September 5th, 2010), as I sat at my desk sticking the business end of a safety pin into the side of a nickel-sized blister on my foot, I thought to myself "How could I have made this hike better?"  Actually, the first thing I thought was "Why the hell did I talk my roommate into dropping me off at work for the sole purpose of walking my happy ass home!", but I digress.  Now, before you question my sanity, let me first explain my reasoning for making a trek like this in the hot Florida sun on a Sunday afternoon.
1.      Test my Get Home Bag (GHB) – My GHB is a small backpack that I keep in the trunk of my car that contains the supplies that I might need to get me back home on foot.  Walking with the weight of this pack (~30 lbs) and assessing the usefulness of its contents en route were the primary points of this test.
2.      Assess the "Suck Factor" – In the event that I need to walk home (i.e. disaster, vehicle breakdown) I need to know approximately how good I'm going to feel both during, and when I reach home.
3.      Route Planning – I've found that you achieve an intimate understanding of a travel route when you go it by foot.  Both the dangers, and available resources, become much more apparent to me when I'm not whizzing by them at fifty miles-per-hour.
Now that my goals have been established, I can tell you where things went right and where things went horribly wrong!
First, the good…
1.      I Had Very Little Useless Gear – Since I've spent a lot of time studying preparedness and building survival kits for myself and others, I found that I was pretty spot on with what I had in my pack (I'll post an article on the contents of my GHB soon).  However, I want put more thought into adding items that will be more suitable for an urban environment since my trek home from work is primarily through an urban setting (i.e. replace the big fixed blade with a smaller fixed blade that is more easily hidden).
2.      Bringing the Girlfriend with Me (and "No" she didn't make me write this) – Having a companion with me to talk and joke with was definitely more enjoyable then going alone …especially once my blisters set in.  In an emergency, I'd definitely try to hook up with somebody to travel with, not only for security, but to lessen the "Suck Factor".
3.      Not Traveling During the Midday Sun – This was definitely a good move.  Not only did it help me conserve water, but it also became a morale booster, because as the "Suck Factor" went up, the temperature went down.  In the future, I would definitely do my best to schedule the end of my journey during the most pleasant time of the day if possible.
Now, the bad…
1.      Don't Ever, Ever, EVER Wear Poor Footwear to Hike In! – Me, and my infinite wisdom decided to wear the barefoot shoes that I run in (Vibram Five Finger Toes) to do this hike.  Big Mistake!  Carrying any load on your back requires proper support to not only keep an efficient stride but also to prevent abuse to your feet attributed by your extra weight.  Flip flops, heels, beat up sneakers, and especially… Vibram Five Finger Toes will not cut it!
2.      Running is NOT Hiking – I attribute my previous blunder to not having a full appreciation of this concept.  As a collegiate cross country and track guy I approached this particular hike with the mindset "I can run marathons… walking fifteen miles with a dinky pack… pssshhh… that's nothing!"  That mindset was downright stupid.  Every time I take a hike through the woods/mountains I have enough respect to prepare correctly (i.e. at least wear boots or trail sneakers), and I should have carried that same respect to this urban hike.  I will not make this mistake again.
3.      When you feel a "hot spot" treat it immediately – Right around five miles in I began to feel "hot spots", or areas where blisters were beginning to form, on my feet.  At this point I should have stopped, peeled off my shoes, and applied, at the very least, duct tape (which my well prepared self had) to these spots.   But Noooo, as a guy who never gets blisters, and who was already feeling cocky about this "pathetic little hike" I decided to suck it up to the end.  I know what you're thinking, "Who has two thumbs and is a freakin' moron?  This guy!"
At the end of the day, I felt this hike was a success more than it was a failure.  I made it home without taking a cab, I tested myself and my equipment (which EVERYONE should do), and most importantly, I now have even more appreciation for Mother Nature and her ability to give you a swift kick in the ass when you underestimate her!  We should all be so lucky.